Published: Monday, December 21, 2020 01:51 PM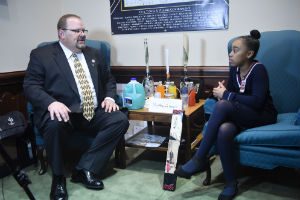 KANKAKEE – As the spring legislative session approaches, State Senator Patrick Joyce (D-Essex) is encouraging residents to share their ideas for potential new laws.
"Families and communities have faced tremendous obstacles this past year," Joyce said. "If 2020 taught us anything, it's that people want to be heard by their elected officials so we can develop smart solutions to the issues they're facing."
Ahead of the beginning of the 102nd General Assembly, Joyce is encouraging residents to send in ideas for new bills that could help improve the state of Illinois. Bill ideas can be submitted via email to Joyce's office using the contact form at SenatorPatrickJoyce.com.
Last year, Joyce heard from Hayli Martinez, an 11-year-old girl from Kankakee, whose lemonade stand was flagged by Kankakee Health Department officials and shut down soon after. After Joyce heard the story, he introduced Hayli's Law – Senate Bill 3459 – which eliminates any requirements such as licenses, permits or fees to sell lemonade or other non-alcoholic beverages for individuals under the age of 16.
Joyce is eager to help more constituents in the upcoming spring session and hopes to hear from residents soon.
"This is the time for us to collaborate and find solutions to problems in our community," Joyce said. "I encourage anyone who has an idea for making our community better to submit it to my office for consideration."
Joyce's staff is working remotely at this time. However, phone calls are forwarded and emails are still being answered. For questions or additional information, call his district office at 708-756-0882.
Joyce represents the 40th District, which contains portions of the south suburbs of Chicago as well as a majority of Kankakee County and southeastern Grundy County.
Category: Press Releases