Published: Thursday, May 21, 2020 06:24 PM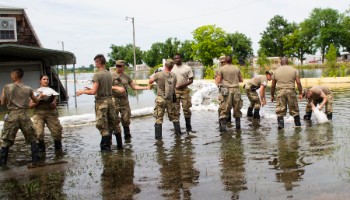 ESSEX - The National Weather Service is forecasting major river flooding over the next several days for portions of the Illinois River, including in Grundy County. State Senator Patrick Joyce (D-Essex) is pleased that nearly 60 Illinois National Guard soldiers for State Active Duty to assist with the state's response efforts.
Both Grundy County and the governor have issued disaster declarations to provide additional resources for the local flood response. These declarations will ensure state support to communities that are shoring up local levees to protect against rising river levels.
"We have to respond quickly to rising water levels," Joyce said. "Flooding is always unpredictable and dangerous, so I appreciate the efforts of the National Guard to support our local first responders."
The service members called to active duty will see a change in normal operations to address the COVID-19 environment. All guardsmen will be tested for COVID-19 prior to deployment into the local communities. Additionally, they will be issued personal protective equipment to use while working in conditions where they cannot appropriately implement social distancing procedures, and they will be housed within the community to ensure the virus is not being brought into the affected communities.
Read more: Joyce commends move to send National Guard to Grundy County to help with flooding
Category: News