Published: Wednesday, September 08, 2021 03:37 PM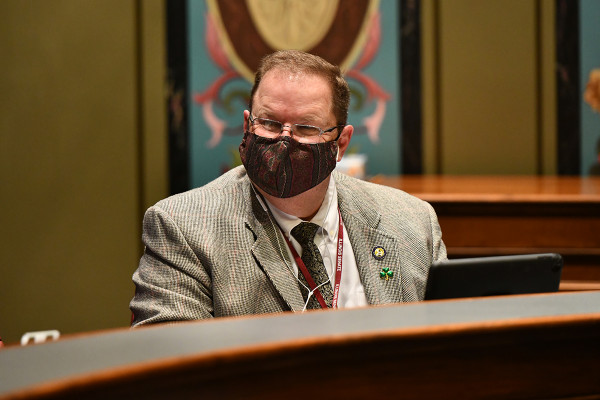 PARK FOREST – On behalf of concerned citizens who contacted his office to discuss the issues facing their families and neighborhoods, State Senator Patrick Joyce (D-Essex) championed several initiatives to benefit his community and people across the state of Illinois during the spring legislative session.
"I firmly believe we are most successful when we have open conversations, so we can work together to implement change when ideas or issues arise," Joyce said. "Some of my most recent legislative initiatives have involved constituents bringing their concerns to me, and together, we have made remarkable progress this past year."
Joyce championed a new law this spring for the residents of Pembroke Township who have suffered from a lack of resources and investment. With 2,100 residents relying on propane, wood-burning stoves and electric space heaters, Joyce worked with the people and leaders of Pembroke to bring a natural gas pipeline to the township. Thanks to Joyce's leadership, residents will be able to apply for state grants to help cover the cost of converting stoves, heaters and other appliances to be compatible with natural gas.
"The Pembroke community has waited long enough for this basic need," Joyce said. "With the advancement of this transformative legislation, Pembroke residents will soon have adequate living conditions and the necessary resources to keep warm."
No issue was too big or too small for Joyce to tackle, and this year he made sure young entrepreneurs would be able to sell lemonade without fear of government overreach under Hayli's Law.
The law was inspired by 12-year-old Hayli Martinez, who started her Halibug Lemonade stand to raise money for her college fund with the help of her mom, Iva. Shortly after being profiled in the Kankakee Daily Journal, city and county health department officials told her to shut down the stand or face fines.
"I knew I had to take up this cause in Springfield, so our local governments wouldn't be discouraging our young entrepreneurs," Joyce said.
Hayli's Law, which passed with unanimous support in the Illinois House and Senate, will allow children to sell nonalcoholic mixed beverages on private property or in public parks without interference from local governments, encouraging Illinois kids to explore innovation and entrepreneurship from a young age.
Joyce also sponsored legislation to give communities a voice in school closure decisions, remedy Illinois' teacher shortage and more. A full list of legislation Joyce has sponsored is available at ILGA.gov.
Joyce is eager to help more local residents and encourages folks to discuss the issues they care about at his next Coffee, Conversation & Constituent Services event on Saturday, Sept. 18 from 9 to 11 a.m. at Starbucks, located at 532 Main St. NW in Bourbonnais. Those unable to attend can contact Joyce's office at 708-756-0882 or visit SenatorPatrickJoyce.com with any concerns or ideas.
Category: Press Releases