Published: Wednesday, February 19, 2020 05:57 PM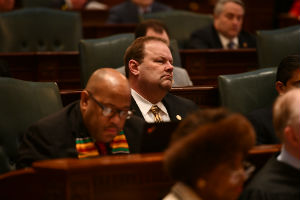 SPRINGFIELD – After listening to Governor JB Pritzker's second Budget Address, State Senator Patrick Joyce (D-Essex) believes the governor is proposing smart investments to help working and middle class families succeed.
One of these investments is a $100 million increase in funding for the Child Care Assistance Program, which would help provide high quality care for an additional 140,000 children.
"Finding affordable child care can be the difference between success and poverty for young families," Joyce said. "Expanding this program will help so many people establish their careers and get college degrees."
Another proposed program that would help people find high-paying, rewarding jobs is a $2 million initiative – the Illinois Works Jobs Program – to help people from all communities find jobs in the construction industry and building trades.
"The ultimate path to a brighter economic future is a career, and while higher education is important, it's not the only way to get there," Joyce said. "Helping get more women and men from every background involved in the building trades will help both families and the state grow."
Joyce also appreciates the governor's continued investment in Census outreach.
"It's hard to over-emphasize how important it is that everyone in Illinois gets counted in the Census," Joyce said. "People tend to think the Census is all about seats in Congress, but it's not. It also determines how much federal funding Illinois gets for so many vital programs. We must make sure Illinois residents get their fair share of the services their taxes pay for."
Category: Press Releases