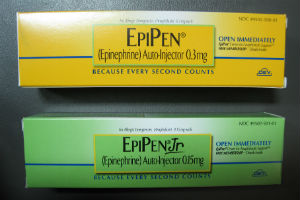 SPRINGFIELD – In an order to expand coverage of epinephrine – a life-saving medicine for people with allergies – State Senator Patrick Joyce (D-Essex) is co-sponsoring a measure to make it accessible to all.
"Money should not be a deciding factor for folks who direly need important medications," Joyce said. "It's simple. People who have serious allergies shouldn't be put on the back burner because they can't afford EpiPens."
Senate Bill 2457 requires insurers to expand coverage for people who medically need EpiPens regardless of age.
Epinephrine injectors deliver epinephrine to individuals experiencing an allergic reaction. Epinephrine works by narrowing blood vessels and opening lung airways, reversing the symptoms of an allergic reaction that, if not treated, it may cause death.
Joyce has previously supported bi-partisan measures to expand health care accessibility, such as Senate Bill 667, which caps the out of pocket costs of prescription insulin.
"I will be a strong advocate for any piece of legislation that strengthens the health care accessibility of our community," Joyce said. "This bill is a vital step towards addressing Illinois' public health crisis."