Published: Wednesday, March 04, 2020 10:58 AM
SPRINGFIELD –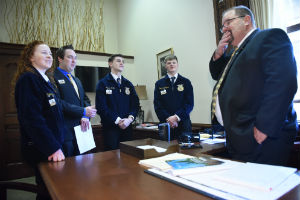 Future Farmers of America visited State Senator Patrick Joyce (D-Essex) on Agriculture Day.
Future Farmers of America travel to Springfield every year to talk to their elected officials about legislation that would help future farmers.
"I was once an FFA student. It taught me so many valuable lessons that I still hold and apply to my life as a farmer and state senator," Joyce said.
Category: People of the 40th