Published: Friday, July 23, 2021 03:47 PM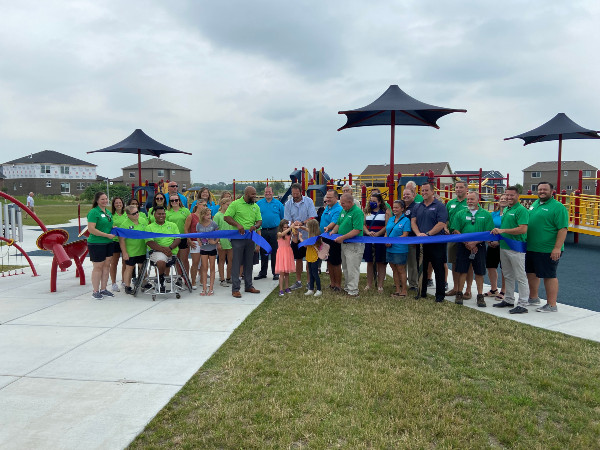 NEW LENOX – State Senators Patrick Joyce (D-Essex) and Michael E. Hastings (D-Frankfort) attended a ribbon cutting ceremony for the grand opening of Leigh Park in New Lenox Thursday.
"Leigh Park is a collaboration of grants, park district money and fundraising efforts over the past few years," Joyce said. "This park will enable Will County residents to better enjoy time outside, providing a gathering place for people to come and talk, walk and let their kids play."
This park benefited from a grant through the Open Space Land Acquisition and Development program, resulting in a state-of-the-art playground designed for maximum accessibility, in partnership with LWSRA park district partners from Frankfort, Frankfort Square, Manhattan, Mokena, New Lenox, Peotone, and Wilmington Island Park Districts and other local partners.
"Leigh Park is the result of strong leadership and smart allocation of resources," Hastings said. "I am proud to live in a community that prioritizes our families, provides great spaces for our children to play, and that partners so effectively with organizations like the Lincoln Way Special Recreation Association."
Joyce and Hastings were joined by New Lenox Mayor Tim Baldermann, Will County Board Speaker Mimi Cowan, Will County Board member Tom Weigel, New Lenox park district commissioners and staff, as well as staff from the Lincoln Way Special Recreation Association.
Residents are encouraged to visit Leigh Park located at 1900 Heather Glen Dr. in New Lenox.
Category: People of the 40th